My fourth and final post from Charnwood Water! It was such a good blog photo day! See my other posts from Charnwood Water here:
Anyway, usually I try to take a few photos from different angles for each subject, then pick which of those is my favourite to go on the blog. However this time it is different. I loved this plant so much that you get 3, yes THREE different angles of it! Wow! There are other plants here too like the ivy, but this one I have never seen before so I am showing it you now!
Don't forget to enter my competition where you can win one of these for yourself!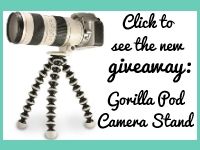 Click Here to Follow Me on Bloglovin!
This was linked on: