My final Lotherton Hall post, all about the birds! See my other posts about Lotherton Hall here:
So Lotherton Hall has it's own bird sanctuary, and myself and my girlfriend ventured in to see what snaps we could get! Having recently been to go and take photos of some swans and ducks, I knew it was going to be difficult, but when we got there we really had our work cut out.
We spent ages trying to get some close ups of the birds, with Hana doing her best to draw them in by shaking her scarf, which actually worked! We spent so long on the close ups of the heads of the ducks, and I took at least 20 photos per head! I think the fact that I love shooting in manual focus really was my enemy as trying to catch a moving bird is so difficult!
Anyway, here are the results from the day:
1. A ducks head, I just love the patterns on his neck
2. A beautifully coloured bird
3. Blurred flamingoes
4. A close up of the first duck. Sadly the fence was too small to fit my lense through so just ignore that!
5. Non-blurred flamingoes
6. The head of a Rhea. I love the blue eyes!
Don't forget to enter my competition where
you can win
one of these for yourself!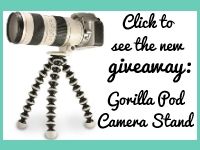 Click Here to Follow Me on Bloglovin!
This was posted on: